Ideal Architectural Housing Types for Different Housing Families
A look at Oscar Newman's suggestions for which building types are ideal for each individual and family size or lifestyle.
Oscar Newman was an architect and a city planner who extensively studied public and affordable housing and coined the term "defensible space theory."  Through his studies, Newman developed a set of principles aimed at minimizing crime through environmental design.  Newman published his first book, Designing Defensible Space, in 1972. Over the next 30+ years, he would further refine his principles and work with housing agencies to implement his methods. While some aspects are controversial, many of his ideas about defensive space are still actively utilized in the design of public housing to this day.
In 1980, Newman published Community of Interest, a further elaboration on his theories. In this book, Newman provides a concept for creating physical communities based on defensible space and share lifestyle needs. He offers recommendations for which type of housing is ideal for various lifestyles.
He breaks housing types into single-family, walk-ups, medium high-rise ( mid-rise), and high-rise.
Single-Family Homes
Newman included townhomes (row houses) and duplexes in single-family homes. He called any home where the front door opens directly outside a single-family home. Densities for single-family homes are typically less than 38 dwelling units per acre.
Newman recommended that the main entry faces the street for defensive design. The direct line of sight from the public street deters criminals from breaking and entering due to the visibility. Further, he suggested the most frequently used spaces like the kitchen or living room directly face the street for "surveillance." Additionally, he recommended that the back yards have defined and fenced in private back yards for private "play areas" for children.
Newman suggested that single-family homes are ideal for families with children, but they also work for non-working adults, such as the elderly. However, he did not recommend single-family homes for working adults with no kids who work outside the home. Because they are frequently not home, and they can have predictable schedules, they are susceptible to burglary.
Walk-Ups
Walk-up housing are multi-family homes which share entrances to units.  Unlike single-family homes, walkups have interior spaces which are no longer private to each individual family. Densities are typically between 36 and 72 dwelling units per acres.
Similar to single-family homes Newman recommended that front doors and heavily used spaces face the street and entrances for surveillance purposes. Additionally, it is important the number of families per entry should be kept as small as possible. His research showed that the fewer number of people who had access to a space the more likely it is that the homeowners will take an interest in caring and patrolling it. Newman recommended no more than 15 units share one entry.  Additionally, he recommended that fenced semi-private backyards be shared by the units. Again the fewer people who share the backyards or "play areas" the better.
Walk-Ups are also ideal for families with children, and working adults are "barely acceptable,"  according to Newman. However, non-working adults are not recommended for walk-ups because the stairs make mobility difficult.
Medium High-Rise (Mid-Rise)
What Newman called "medium high-rise," I would typically call mid-rise. These buildings are between four and seven stories tall and have elevators. Ideally, any mid-rise or high-rise building should have a doorperson. However, due to economics, this is not always possible.
Whether a doorperson can be afforded is crucial during the design process. If a doorperson can be afforded, you only want one entry so the doorperson can monitor who is entering and exiting the building. However, if the building is unable to have a doorperson, then the building should be designed with as few apartments as possible sharing entries, elevators, and corridors. Just as was mentioned with walk-up housing, limiting the number of units per entry will encourage the people who live in the apartments to take ownership of the share spaces.
According to Newman, mid-rise buildings with a doorperson are ideal for both non-working and working adults. Still, they also work well with families who only have one or maybe two children. However, when no doorperson is possible mid-rise buildings are only appropriate for non-working adults or elderly. Furthermore, families with children are barely acceptable in mid-rise buildings without doorpersons, and working adults should not live in a mid-rise building without doorpersons because their units become very susceptible to burglary.
High-Rise
High-rise buildings are buildings over seven stories tall. They are best in high-density urban areas like Chicago's Loop, River North, South Loop, West Loop and lakeside areas.  It is best to limit the number of units to 100 to allow the doorperson to recognize every resident and guest by sight.
Similar to mid-rise buildings, high-rise buildings with elevators are ideal for both non-working and working-adults. However high-rise buildings are barely acceptable for families with children due to the limited active space. However, some newer high-end high-rises are incorporating recreation centers into the amenity floors to help with this.
The only time high-rise buildings work without a doorperson is when it is for the elderly since they are regularly around and, they are attentive to who is coming and going. High-rise building without doorpersons are strongly discouraged for working adults and families with children. These are the types of buildings which were built and then later demolished throughout the middle of the twentieth century. They resulted in the buildings being extremely hostile to the communities where they were placed and the people lived in them.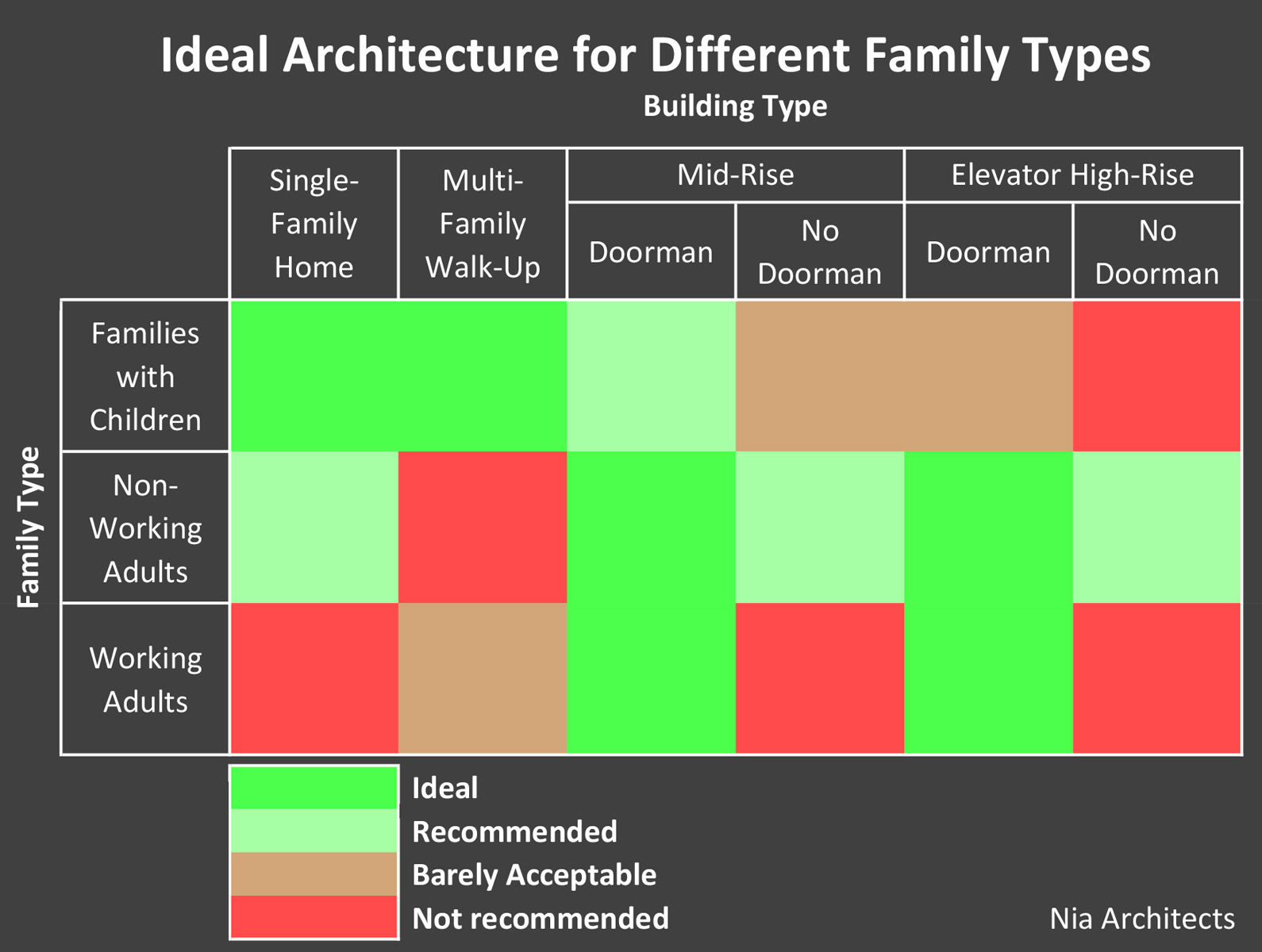 These recommendations are only a small part of Oscar Newman's work, which includes ideas such as making territorial zones, providing surveillance opportunities, and other architecture and urban design principles. Additionally, there are exceptions to many of these rules. However, these recommendations are a testament to how good and conscious environmental design can utilize psychology to improve the health, safety, and welfare of users and the surrounding community.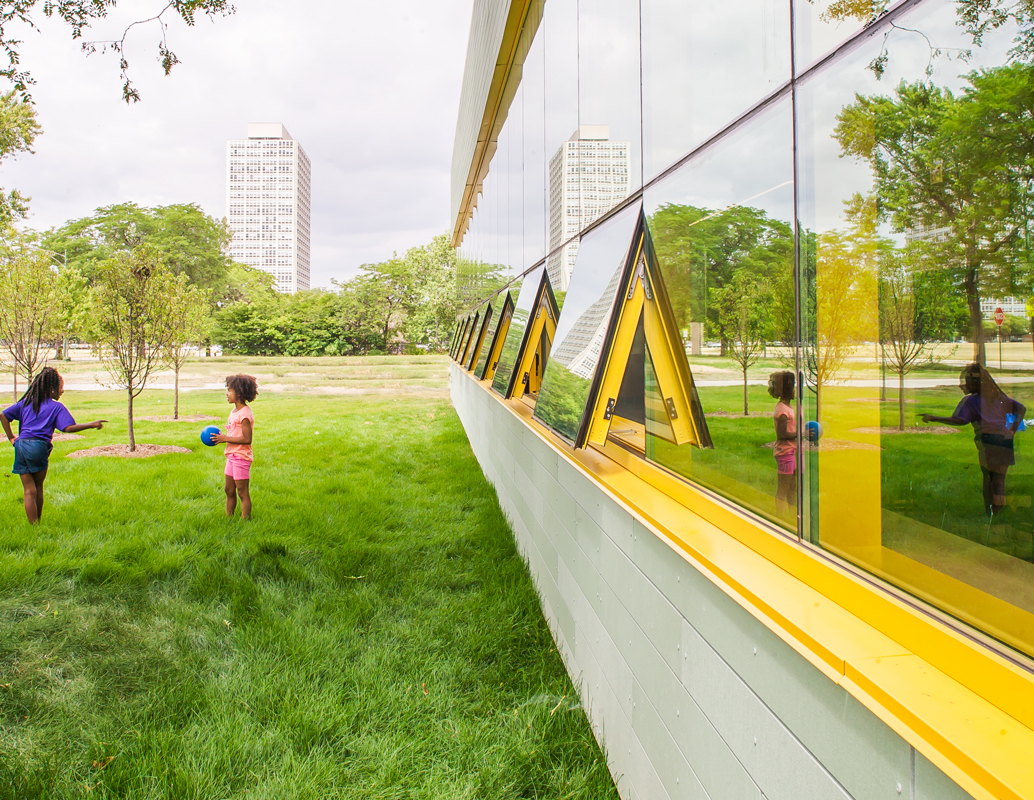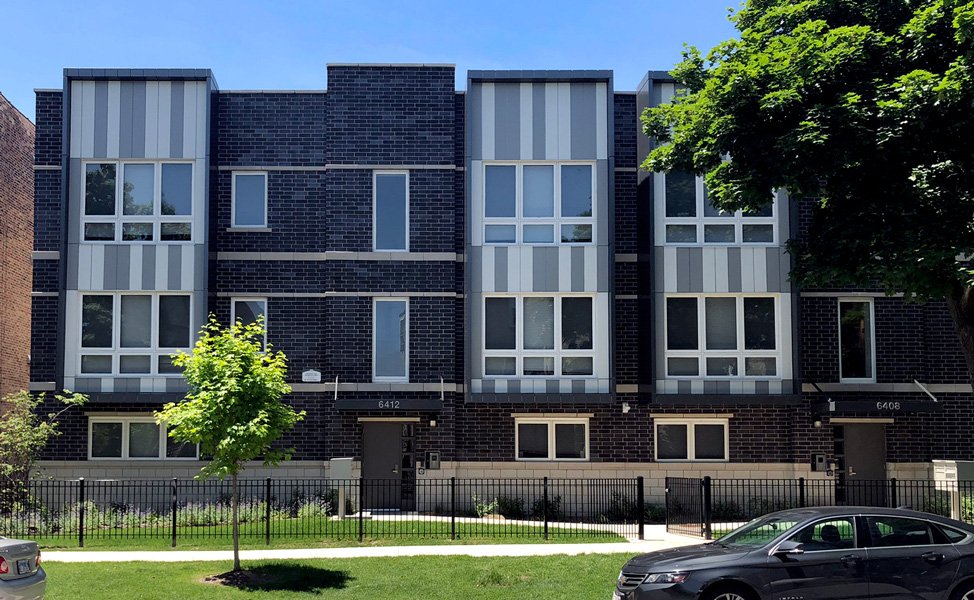 Nia's Woodlawn Apartments are a great example of a walk-up building utilizing different entrances. The 12-unit building uses two separate entries.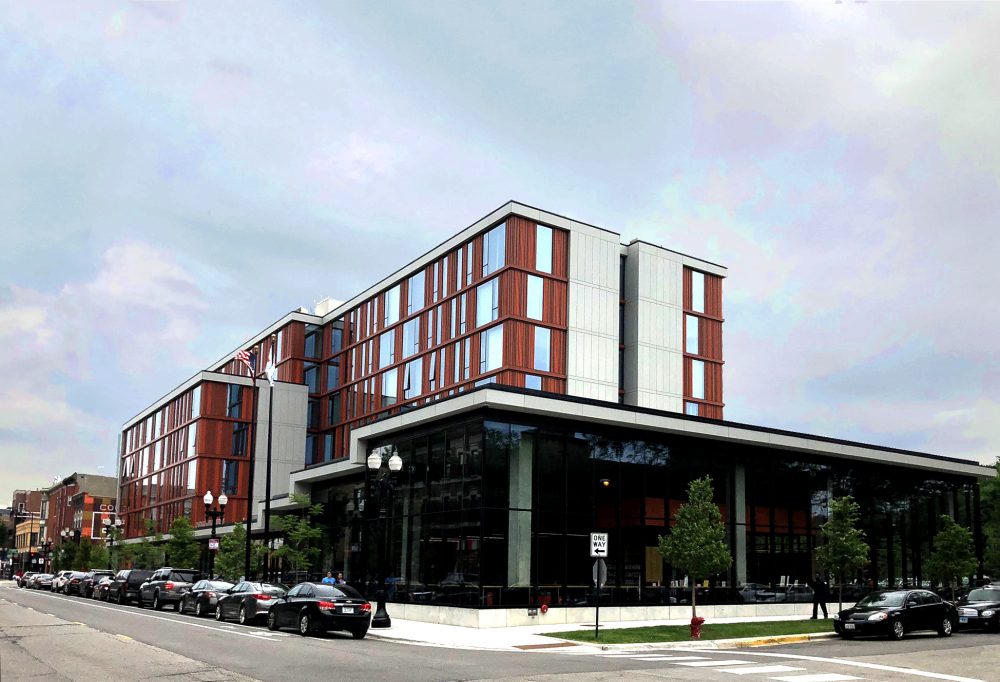 The Little Itatly Branch Library + Apartments is an example of a mid-rise elevator building that utilize a door person. The 73-unit building has a front and rear entrance, but they are both monitored by the doorperson.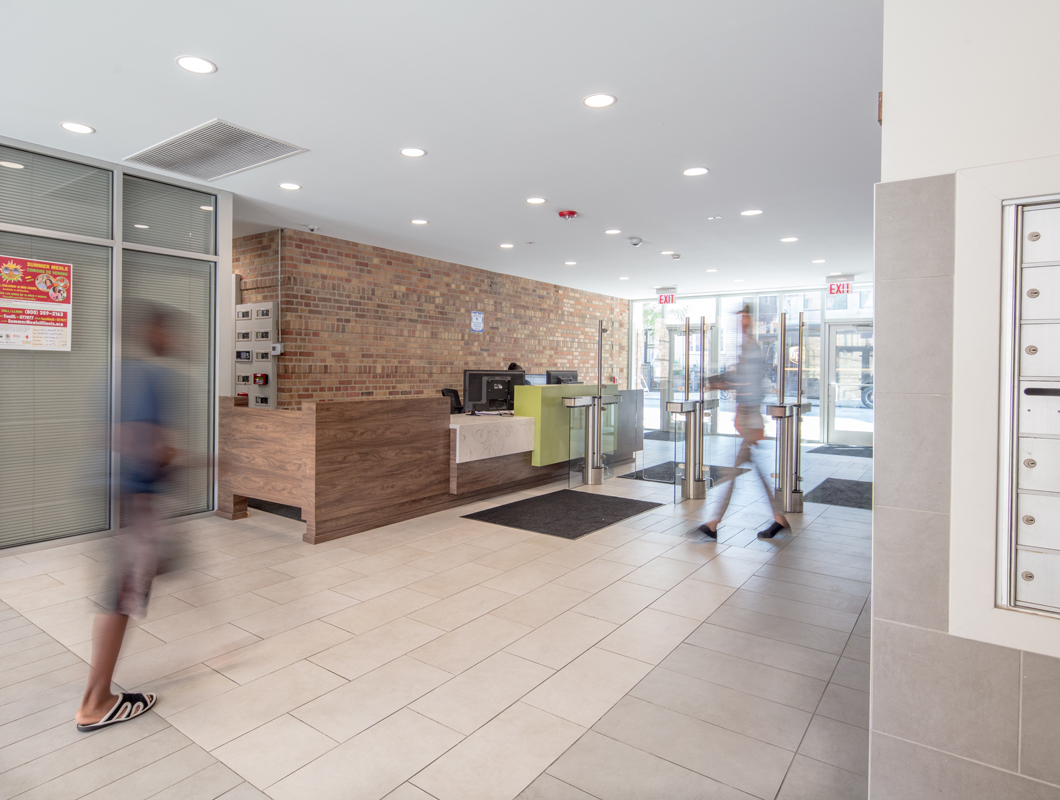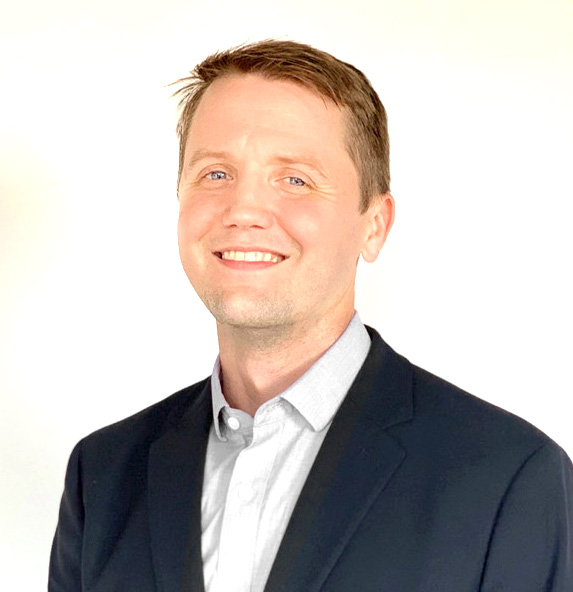 Brad Riemann
Director of Marketing
Brad is responsible for the Nia Architect's marketing and business development while simultaneously designing various architectural projects. Brad has business and marketing experience in real estate, manufacturing, and other industries. This experience, combined with his architecture background, gives him a unique understanding of the juxtaposition of design and return on investment.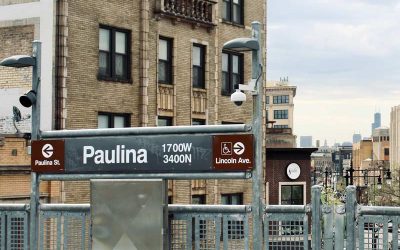 Spurring Development through Equitable Policy Implementation Part 4: Leveraging our Transit Assets to Grow CommunitiesThe Transit-Oriented Development Ordinance (TOD) is another policy that was written with altruistic intents. It aimed to improve the affordability and...